Jung-Woo "Sayaplayer" Ha is one of the spiciest players to have joined the Overwatch League. Upon joining the Florida Mayhem in the middle of the inaugural season, Sayaplayer quickly made a name for himself for his highlight-reel Widowmaker play.
A good Widowmaker is sometimes all it takes to win matches— and Sayaplayer has been one of the best. However, everyone knows that shields (or double shields) often render snipers to be useless.
This imagery can be an allusion to Sayaplayer's career. Despite his individual talent and skill, he's one of multiple talented professionals who have yet to win a single title in their careers. That being said, his time with the Florida Mayhem from the beginning has been an unstable one— but his fuse hasn't burned out just yet.
The Insurmountable Inaugural Season
"I didn't know it would be this hard when I first joined."
Sayaplayer joined the Florida Mayhem back in 2018, when the Overwatch League had just begun. The team's core came from European team Misfits Gaming, the organization behind the franchise. Needless to say, Sayaplayer found the invitation to be a surprise.
"At the time, when I had gotten my offer, the season had already progressed a little bit," Sayaplayer recalls. "I was on a Korean pro team (Meta Athena) and we were having great results. We didn't have a pre-established conversation going on or anything, but I'm guessing that my team owner or one of our coaches showed off some of our scrim videos to some OWL teams.
I don't remember specifically, but from what I recall, it was the Shock and the Mayhem that sent me offers at the time. It was very sudden, and I didn't anticipate it at all."
Upon officially signing with the Mayhem in February of 2018, some immediate problems arose. Due to the lack of visas and travel confirmations, Sayaplayer was forced to stay in Korea for a few months. He could do nothing but continue grinding the Korean competitive ladder and spectate the team's scrims from overseas.
When he finally made it to America later in April that year, things still didn't go to plan. While the Florida Mayhem were eager to sign the DPS star, they didn't provide Sayaplayer with the adequate resources to help him assimilate into the team's culture and lifestyle.
"As soon as I finally arrived in America, we ran into a wall: we used to do our comms and call-outs in Korean, but all of a sudden with Mayhem, comms were done in English. Any feedback sessions were also all done in English, and there was no translator at the time either. So I had to do everything in English, which I was bad at, and we never had a translator for the longest time."
Just two days after scrimming with the team in America, Sayaplayer was rushed into two matches that week against the NYXL and the Philadelphia Fusion. Without proper time to recover from jetlag, as well as the lack of any established methods of synergy or communication, Sayaplayer was unable to find immediate success.
The Florida Mayhem continued to suffer throughout the season, and ultimately placed 11th out of the 12 inaugural teams. The young Korean player found it hard to adjust to Western culture, and discovered that there were vast differences in Western and Korean professionals' work ethics. Sayaplayer was able to befriend his teammates and learn more about American culture, but he and the Mayhem only managed to win six Overwatch League matches in 2018.
"For me personally, I didn't know it would be this hard when I first joined," Sayaplayer reminisces. "I knew that Mayhem were struggling at the time, but I didn't know it would be that difficult to help out. But honestly, I feel like no matter who you'd put into my position at the time, they would have had trouble."
Although Sayaplayer couldn't become the single plug-and-play solution that Mayhem needed to start winning again, he was still able to show off some strong performances. Towards the end of the inaugural season, it was clear that the Mayhem were in desperate need for change. However, Sayaplayer remained one of the most promising players on the team to rebuild around in the coming season.
"I really think that I did my best, given my circumstances," Sayaplayer explains. "And I still made a pretty big impact regardless; that's why I feel like I'm still around to this day, and why I'm still taken seriously by the pros in the Overwatch scene. Even though I couldn't help achieve good results for our team, I think I showed good individual performances."
"Surely it can't get any harder than it was last year." -Sayaplayer, 2019
It was harder.
With the start of the 2019 season came a new roster; Sayaplayer would remain the ace of the team alongside additional Korean players, including one of his former teammates from Meta Athena, main support Jun-Soo "Kris" Choi. Many assumed that this iteration of the Florida Mayhem would be an improvement, expecting communication and synergy between the players to be more fluid. However, it was quite the opposite that occurred.
"One thing that I think is truly unfortunate is that out of our tryout results, we ended up picking a lot more Koreans for our roster," describes Sayaplayer. "But we still had a few non-Korean players on our team. So we still had to do all our comms in English. Our coaches were also non-Korean speakers, so even during tryouts, we had to do everything in English."
The Korean players, who were willing to learn and understand English for the sake of their teammates, did not receive the same amount of dedication in return from the Western Mayhem players and staff. Sayaplayer found it unfortunate that despite being in the majority, he and his teammates were unable to voice themselves comfortably in practices or in official matches.
This continuous discourse over language barriers, as well as other internal conflict within the organization, led to an even more disastrous 2019 season. Ontop of all this, the GOATs (triple-tank, triple-support) meta dominated most of the year. Sayaplayer was forced to play Brigitte, or even sometimes benched for another player. The Florida Mayhem also signed three additional players in the middle of the season, but only marginal improvements were made overall.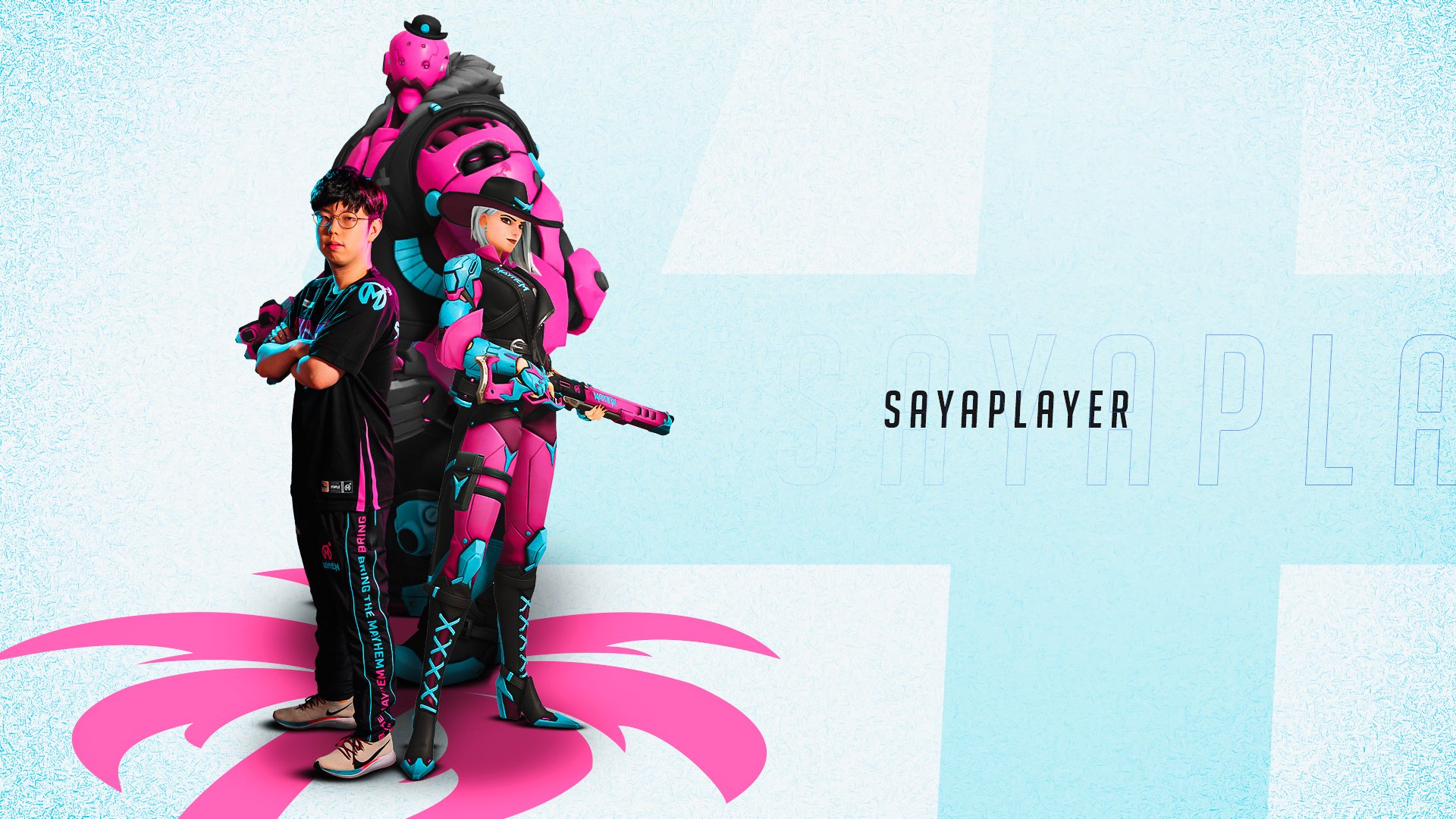 Just when things looked hopeless for the team, the final stage of the season saw a drastic shift in the meta. The 2-2-2 rolelock came into play, eliminating GOATs from popularity, and Sayaplayer was able to shine for just a few moments. However, these small victories barely stood out within the massive failure of a season. The Florida Mayhem finished the season dead last at 20th out of 20 teams, and released many of their players just like they did the year before.
"I can't go into detail, but the atmosphere was pretty terrible," Sayaplayer laments.
Hindsight 2020: Mayhem (finally) Lights it Up
Once again, the Florida Mayhem went through another roster shuffle in 2020. This time, it was much more expansive— an all-Korean pickup with not only two players, but also two coaches as well. With a full Korean roster to represent the team, the Mayhem finally resolved their language and communication issues.
"Our team is doing so well that sometimes I feel like they don't really need me."
As a result, the Mayhem currently sit atop the standings; of course, their current top-5 ranking can be watered down by travel and schedule conflicts amidst current COVID-19 regulations. But Sayaplayer is confident that this is the strongest iteration of the Florida Mayhem we've ever seen.
"I think we definitely have much stronger players this year, and our coaches and staff are all great," Sayaplayer remarks. "It's the most simple, but most effective winning combination. On top of that, everyone's working super hard, too, but that's a given in this situation."
While Sayaplayer continues to be the franchise player, he's no longer the solo-carry of his team. The Mayhem have only played Sayaplayer in three maps this season, and continues to find success in DPS players Sang-Bum "BQB" Lee and Jun-Ki "Yaki" Kim instead.
"I don't know if I should be this honest with my answer," Sayaplayer admits, "but honestly, our team is doing so well that sometimes I feel like they don't really need me…but I'm cheering them on as much as possible from the sidelines. On top of that, I'm also grinding a lot harder, so hopefully I can get more playtime on stage."
Over the course of three years, the Overwatch League has slowly started favoring players with the ability to play various heroes over one-trick or 'specialist' players. It makes sense, too, given the fact that the hero pools have banned snipers nearly every other week. As a result, players similar to Sayaplayer have quietly been dropping out of the scene in 2020.
[Also read: Sinaatra retires from the Overwatch League]
"I've been doing poorly this season, and honestly, I feel like I've been falling off a little. The season is still in progress, so I'm not over these thoughts entirely, but I feel like this year is the biggest hurdle for me.
For the last two years, I could just overcome any negative thoughts by grinding and working harder. But this year, I feel like I've really hit a wall. So I'm still trying to figure out how I can overcome these negative thoughts."
But this isn't necessarily the end for Sayaplayer's career. After all, he's been through much worse in the past. As his career extends through nearly four years, Sayaplayer still has a lot left to accomplish.
Saya-Redux: a monologue
"So I've been playing for a long time. In the beginning, it was just because I found the game to be fun. I've loved playing video games since I was young, and it just so happened that I was a little more talented in this one.
Part of me sticking around for this long is me feeling like giving up now would be a waste of all the time I've invested so far. I started playing in my last year of high school, which was a very important time of my life with university entry exams and such, and I can't go back now.
Also, after getting into the Overwatch League, I feel a sense of responsibility from the salary that I'm being paid. Now I have a bit of a 'provider' mentality, because our family isn't necessarily comfortable or well off. So I've been sticking around for them as well. I guess initially, it kind of started off as just being something I do for fun, but now it's also a means to support my family.
But for the first two and a half years of my pro Overwatch career, I basically had no salary. Food and housing was paid for, of course, but no actual cash on top of that. There's also a bit of me that can't forget the past, back in Korea. My team, Meta Athena, were so close to making the APEX Season 3 finals, and I still haven't forgotten how that memory feels like. I'd like to taste what it's like to be at the finals again, and experience the glories of victory at least once."
The May Tournament: A new chance towards greatness
For the Overwatch League's monthly melee May tournament, the Florida Mayhem recently cemented their spot as the first/second-seed. They swiftly defeated all three of their opponents— the Boston Uprising, the Vancouver Titans, and the Washington Justice— and will only need to win two matches in the bracket to attend the finals.
It's clearly the closest that Sayaplayer has ever been to a title since his time back on Meta Athena. And while he might not be the one leading the team to victory, Sayaplayer is clearly continuing to dedicate to and practice Overwatch.
"I'd like to taste what it's like to be at the finals again, and experience the glories of victory at least once."
Just take a look at The Story of Sayaplayer, a documentary made by the Florida Mayhem to recognize the greatness of the player. In it, his mother makes an appearance, hoping that he always does his best at any given moment.
"When I heard my mom say that in the documentary, I had a pang of guilt in my heart," Sayaplayer admits. "Truthfully, I know how lazy I can be. I say out loud that I'll work hard all the time, but internally, I know how I don't always try my best sometimes. From here on, I'm going to think of my family as I keep working hard."
So don't expect it to be curtains for Sayaplayer anytime soon. The Florida Mayhem continue to break expectations and surprise the league this year, and he'll definitely be a part of the team's continued improvements to come.
"Being able to play in the Overwatch League is a once in a lifetime opportunity," Sayaplayer concludes. "So I'm going to make sure that I leave no regrets behind, no matter what choices I make from here onwards."
---